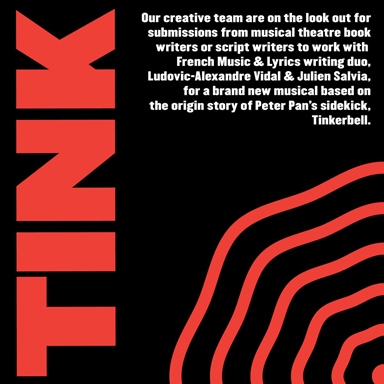 A brand new musical based on the origin story of Peter Pan's sidekick, Tinkerbell.
TINK will be our second collaboration with the teams of SellADoor Worldwide after A Foreign Field.
This will be a story about Neverland as a place for people who have nowhere else to go, Neverland being there there for people who need it. It's a story of empowerment for the character of Tinkerbell, and how the smallest creatures can make the biggest differences to the world if they are believed in.
The show will be the occasion to explain the origins of the characters and events in the JM Barrie book, and explore the communities of Neverland from a new perspective – that of Tinkerbell. What will she learn from each of them along her journey?
We have several proposed structures that we have been discussing for a number of years alongside David Hutchinson and the teams of SellADoor Worldwide, and now we are looking for a bookwriter to join us on the journey to Neverland, and to bring Tink's story to audiences around the world.
Information and application pack are available at www.preston.live. Applications should be sent to info@selladoor.com with the subject title 'Tinkerbell Submission' followed by your name. Deadline for applications is 18:00 on Friday 14th May 2021. Please note that candidates must be from or have a base in the North West of England.

A writers room workshop will then be organized in Preston (as part of Preston Live Arts Festival 2021) and will be for us the occasion to develop a first version of the synopsis / full structure of the show in collaboration with the bookwriter.