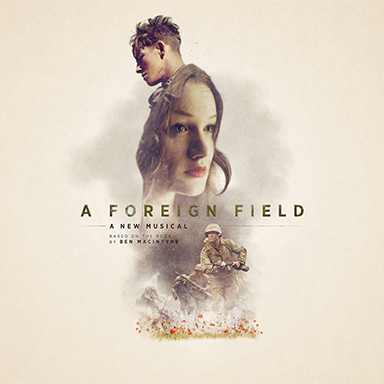 At The Fortune Theatre on 12 November 2018.
Selladoor Worldwide has just announced their first showcase of work developed by Selladoor Creation. The showcase will take place on Monday 12 November 2018 at the Fortune Theatre in London and will bring to life two brand new musicals marking the centenary of the First World War: A Foreign Field written by Ludovic-Alexandre Vidal and Julien Salvia and Poppies written by Laura Kaye Thomson.
Based on the non-fiction book of the same name written by journalist Ben McIntyre, A Foreign Field tells the story of a peaceful French town torn apart by war and brought back together by hope. When Ben visited the French town of Villeret in 1996 he thought he was only there to cover the unveiling of a memorial to four British Soldiers killed by firing squad during the town's German occupation. Until he met Hélène, one of the four soldiers' daughters who needs to know how he came to be betrayed. She implores Ben to help her on this mission, and our story follows his journey of discovery through the past as he encounters the residents of Villeret in 1916 and watches a typical peaceful little town lose its men and be slowly consumed by fear, jealousy and suspicion. But despite the dire consequences of what unfolded in Villeret all those years ago, we are asked whether any of us can judge the actions of others in such extreme circumstances, as through all the horrors of war, some in Villeret never gave in to anger, and never lost hope.
The showcase will be performed by an all-star West End cast including Carol Ball (Flashdance), Isobel Bates (Summer Holiday), Oscar Batterham (The Suppliant Woman), David Birch (Half A Sixpence), Norman Bowman (42nd Street), Sanne Den Besten (The Grinning Man), Alex Hammond (Matilda), Elliot Harper (The Exorcist), Idriss Kargbo (Five Guys Named Moe), Miria Parvin (Once), Oliver Savile (Company), Vicki Lee Taylor (Groundhog Day), Rebecca Trehearn (Show Boat) and T'Shan Williams (Heathers the Musical).
We would like to thank all the teams of Selladoor Worldwide, and particularly Anna Fox, Head of New Work at Selladoor Creation, and David Hutchinson, CEO of Selladoor Worldwide, for their passion, precision and ambition, for all the moments we've been sharing and the ones we're going to share in the future.
For more information about the showcase, you can contact us here !