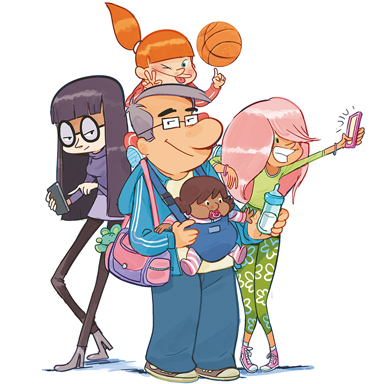 A new animated series !

Welcome to Dad's… Or rather, to Dad's Girls : Bébérénice, Roxane, Ondine and Panda! Four sisters – 2, 8, 12 and 18 years old – as different as each of their respective mothers! On the other hand, they share the same actor father who is taking care of his four beloved daughters. Living with Dad is a 52 episodes sitcom of 11 minutes for girls and boys from 6 years old, which takes us through the sweet and modern daily life of this endearing and crazy family!
Based on the famous "DAD" comic books by NOB, the animated series Living With Dad is produced by Dupuis Edition & Audiovisuel with the M6 Group as a partner.
We are happy to join the team of screenwriters of this animated series which is presently in development.