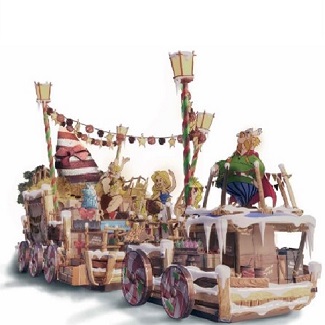 An original song for the Gallic Christmas Parade!

Julien and Ludovic just wrote the original song "Le Père Noël Rêve De Potion" ("Santa Claus Is Dreaming Of Potion") for the special Gallic Christmas Parade of Parc Astérix, the famous French theme park, based upon the beloved heroes created by Uderzo and Goscinny.
The song is performed by Gwendal Marimoutou, who presently performs as Simba in The Lion King, the musical, at Théâtre Mogador in Paris. Background vocals are sung by Marie Glorieux, Maxime Guerville, Margaux Maillet and Julien. The song was arranged by Julien and orchestrated by Antoine Lefort, recorded by the orchestra Les Frivolités Parisiennes at Studio Midi Live in Paris, edited by Louis Machto and mixed by Clément Cornuau.
The whole project was produced by Parc Astérix, with Hervé Bruneau as project manager, a choregroaphy by Yunseon Hong and a sound design by Nicolas Jeanne.
To watch a trailer of the parade, you can go to our "Watch" section here. And to listen to an excerpt of the song, you can to our "Listen To" Section here.